Sue Smith "36 Views of Castle Hill" Perc Tucker Regional Gallery, Townsville
Following the 'sell out' success of her last exhibition "Swept Away" in 2011, Australian artist Sue Smith's exhibition "Thirty-six Views of Castle Hill" was opened by Sydney Morning Herald Art Critic John McDonald on Friday 19th December 2014, at the Perc Tucker Regional Gallery in Townsville, and will run until February 15, 2015. The online catalogue can be found here
(High resolution images are at the end of this article)
ARTIST STATEMENT:
Brisbane is my home town, but I have also travelled a fair bit and lived in London and regional Queensland (at the Capricorn Coast and Townsville and currently in Rockhampton).  The idea for this exhibition began when I was living in Townsville; I enjoyed the way Castle Hill kept popping up as I was moving around the city in my daily routines.
In general, my work grows out of my small town, country and big city experiences and is concerned with time, attentiveness, the sea, the wind and birds, people, emotions, Eastern and Western culture, politics and social criticism. 
I feel some affinity with surrealist and magical realist art; my own work is planned and anchored in the everyday, but it does contain elements that are unusual and inexplicable.  For me, these strange elements seem to halt the viewer and not only suggest an experience but prompt it, inviting him or her to step into the place of imagining.  In order to express my awareness of this world and worlds beyond adequately but in terms relevant to the broader human condition, I often marry images from photographs with memories and imaginings, as well as with ideas from art, politics, films, poetry, conversations and music. 
I am also interested in the tension between representation and abstraction and try to structure compositions with strong patterns and colour and sensuous brushwork, again, partly to encourage more concentrated looking by the viewer.  I prefer to paint in a studio space rather than in the open air.
The title and broad concept of the Thirty-six views of Castle Hill series alludes to the 18th century Japanese artist Katsushika Hokusai's famous woodblock prints of Mount Fuji.  The fact that Hokusai's intention was to depict his mountain from many different perspectives was interesting to me: his project suggests that in order to understand something (a place, or a people) you need to look at it from as many different angles as possible.  This idea, in contrast to the notion that there is only one way of knowing something, became evident to me as I progressed with the series.
Dreaming of Hokusai pays homage to the Japanese master as well as to Townsville's ongoing interest in outdoor art of all kinds.  In Hokusai's day, Fuji was visible across Tokyo and ordinary townspeople (then as now) made pilgrimages to climb the sacred mountain.  Castle Hill's Aboriginal place name is Cutheringa, though its Indigenous spiritual history to my knowledge has not been recorded.   Nevertheless, like Fuji, Castle Hill is an iconic landmark dominating a city skyline and is cherished by locals who walk up it for exercise and study its natural environment, and enjoyed by tourists who take in the views from its summit. 
The Japanese theme also seemed pertinent for my exhibition given Townsville's historical associations with Japan, referred to in Kardinia and Kawanishis.  Kardinia, a colonial house at 11 Victoria Street, was Australia's first Japanese consulate from 1896 to 1908.  Decades later during World War II, in late July 1942, Japanese Kawanishi flying boats dropped bombs in three air raids on the harbour and town.
A few other pictures in the exhibition are laden with social and political commentary. Talisman Saber 2013, for example, is a sober work referring to the biennial international military exercises that take place in the region and acknowledges Townsville's important role as a military base.  Other pictures have a satirical bent —I believe that painting can be serious and comic at the same time, formal yet free.
Time watches politics decline into hubris or vanity in the portrait of the ebullient Queensland senator, Chairman Clive and in CATS (Climate Action Taskforce Scenario).  The latter painting came about after the thought occurred that the perfect metaphor for the chaotic and ineffectual response of grandstanding politicians to climate change was a scenario of herding cats.
Death of the Saint – the lamentation is a response to suggestions from friends that the series should include the large graffiti symbol on Castle Hill (painted, as many viewers would be aware, by university students as a prank in 1962).  The picture came to life as I pondered what, if any, relevance this stick figure logo from TV-land of yesteryear had to people today and who would care if it was removed (apparently an unlikely prospect) — perhaps its disappearance would trigger an enthusiastic 1960s-style protest!
Leaving these half-dozen specific socio-political pictures aside, the bulk of the works in Thirty-six Views of Castle Hill address universal themes in a parallel-universe Townsville.  The aim is not so much to create a "true" portrait of the city, rather to explore emotional truths of inner being and outer experience.  Castle Hill, ever present, functions as an enduring and stable presence contrasting with the transience of nature and human experience, whether the pink granite monolith is depicted looming above mobile skateboarders and swimmers, or is sometimes a tiny detail on the horizon above the Coral Sea, or glimpsed between fuel tanks, high-rise buildings or the ropes of a yacht, or is seen piercing the sky above trees, parks and suburban backyards.
People and their problems and emotions feature in such works as Improbable event management, The Buzz,  Our precarious point in space is not forever, Looking in the shadows, I see you, baby and Escaping gravity I, II and III. 
These pictures variously address the notion that we are vulnerable and pitiable beings.  Dissatisfaction and a yearning to step off the treadmill of boring, dreary existence lead us into reckless or narcissistic behaviour.  We are beset by loneliness, anxiety and worries, sometimes petty or unreal.  There are also external problems of varying degrees of probable occurrence — from accidents and natural disasters to acts of terrorism, cancer and deadly viruses — which we can't control and which may strike us down at any moment. 
It has been suggested that anxiety is fundamental to the human condition, not only because there are real threats to us as inherently fragile organisms, but also because we modern suburbanites still have embedded in our DNA the atavistic fears of our primitive ape-like ancestors who spent their lives evading being torn apart by wild beasts on the savannah.
Anxiety is inevitable, and while humour helps to keep it in perspective, the point of the above pictures isn't simply to make people laugh or despair, rather to suggest that anxieties and other distractions eat up a great deal of our energies and direct our focus away from what really matters.  In this respect, my pictures have something in common with the long European tradition of memento mori artworks, which often featured a skull or an hour glass, and which were created to remind viewers of death and the need to direct their lives, whether short or long, to meaningful pursuits.
Another way to look at this issue is to acknowledge that what we anxious people truly desire is respite and calm, which might perhaps be found in losing oneself in the richness of nature or in aspects of the manmade world or work which we find fulfilling.  The exhibition features a number of calm pictures in which attentiveness and time address each other, such as A little hope, a little whimsy and the pair of paintings In the ocean, the silence moves I and II.
The middle-aged man flying a kite at Pallarenda Beach and the women ship passengers observing the rolling waves and sea birds, seem intensely attentive to their natural surroundings, appreciative that phenomena like sunsets, the sea and flights of kites and birds are — like our lives — beautiful, ever-changing and fleeting.  The transience of life is heartbreaking, but it is also what makes every moment precious.  Such pictures are partly inspired by Japanese poetry and paintings in which short-lived cherry and plum tree blossoms are the object of bittersweet poetic adoration, symbols of the transience of existence.
In a similar way, Happiness like a white bird, quietly descending (inspired by Townsville Common) and Clear against the blue (Castle Hill is seen from Magnetic Island), Zen tide, Pallarenda Beach and Reflections also exude a mood of contemplative harmony with natural surroundings.  
They invite the viewer to detach from the burdens of the self (one's petty problems and circumstances) and to concentrate, just for a minute or two, on the simple delights of everyday natural beauty we sometimes overlook: the way the tide eddies around rocks on the beach creating patterns resembling a Zen Buddhist raked dry garden, the beauty of the bush, sea and waterways.
A quite different set of values is represented in two pictures representing industrial settings.  Our precarious point in space is not forever depicts the fuel tanks near Townsville's port facilities and Clap of thunder, a semi roaring past shows a cyclist and semi-trailer in Kelli Street, in an industrial estate. 
At first sight, these ar
e unlikely subjects for art, yet, for me, the huge cylindrical fuel tanks and the coloured cubes of containers and sheds, like other elements in industrial landscapes, have their own strong visual appeal and poetry.
A Japanese observer might say these scenes have qualities of wabi-sabi.  Wabi means simplicity and sabi is an appreciation of the imperfect; together the term refers to a taste for the pared down, the authentic, the undecorated and the humble, such as earthy tea ceremony pots.  I also feel a poignant sense of the transience of life in the title and imagery of the work featuring the man walking on the power lines; while the haiku-like title, Clap of thunder, a semi roaring past, asks the viewer to feel the drama of and imagine the sounds and smells of the approaching thunder storm and truck.
Moving on to settings of public and private pleasure,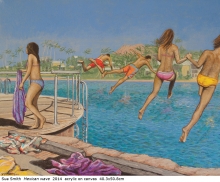 Mexican wave, depicting swimmers at the Rock pool,Sisters, set in Queen's Gardens, the quirky picture Tea for ten,
Every exultant sense, depicting a swimmer at Nobby's Headland, Magnetic Island, the backyard scene, The clothes hoist is not a swing, and the "water" pictures Sailing home, Ross Creek,  Floating, dreaming and A dog's joy are all simply pictures about enjoying being in the moment, being content with our own company and the company of friends and family, and being attuned to the simple things life has to offer: fine weather, playing in the garden, swimming boating, picnics.
Paintings from this exhibition are for sale and prices will be given on application (Freight is not included & will need to be added for delivery outside Townsville). Contact The Perc Tucker Regional Gallery Townsville on +61 7 4727 9011,  Michael Walker +617 4819 1228 or Contact Us (Click thumbnails for high resolution images)
 
| | |
| --- | --- |
| | 1. CATS (Climate Action Taskforce Scenario) 2014 Acrylic on canvas 122.5 x 91.3 cm (POA) |
| | 2. Dreaming of Hokusai  2014 Acrylic on canvas 61 x 91.5 cm (Sold) |
| | 3. Zen tide, Pallarenda Beach  2013 Acrylic on canvas 61 x 183 cm (Private collection) |
| | 4. Happiness like a white bird, quietly descending  2014 Acrylic on canvas 61 x 183 cm (Sold CQUniversity Australia) |
| | 5. Our precarious point in space is not forever  2014 Acrylic on canvas 91 x 123 cm (POA) |
| | 6. Reflections  2014 Acrylic on canvas 91.7 x 122 cm (Sold Perc Tucker Regional Gallery) |
| | 7. A little hope, a little whimsy  2014 Oil and acrylic on canvas 91 x 91 cm (POA) |
| | 8. Improbable event management  2013 Oil and acrylic on canvas 91 x 91 cm (POA) |
| | 9. Escaping gravity I  2014 Acrylic on canvas 91 x 91 cm (POA) |
| | 10. Escaping gravity II  2014 Acrylic on canvas 91 x 91 cm (POA) |
| | 11. Escaping gravity III  2014 Acrylic on canvas 91 x 91 cm (POA) |
| | 12. In the ocean, the silence moves and moves I  2013 Oil and acrylic on canvas 91.5 x 61 cm (POA) |
| | 13. In the ocean, the silence moves and moves II  2013 Oil and acrylic on canvas 91.5 x 61 cm (POA) |
| | 14. Clear against the blue  2014 Acrylic on canvas 60.8 x 91.8 cm (POA) |
| | 15. Kardinia and Kawanishis  2014 Acrylic on canvas 61 x 91.5 cm (Sold) |
| | 16. Chairman Clive  2014 Acrylic on canvas 59.5 x 89.5 cm (POA) |
| | 17. Every exultant sense  2014 Acrylic on canvas 41 x 101.5 cm Triptych (POA) |
| | 18. Waiting  2014 Acrylic on canvas 45.7 x 91.2 cm (Sold CQUniversity Australia) |
| | 19. Clap of thunder, a semi roaring past  2014 Acrylic on canvas 40 x 79.6 cm (POA) |
| | 20. Looking in the shadows  2014 Acrylic on canvas 51 x 61 cm triptych (POA) |
| | 21. Reverie  2014 Oil and acrylic on canvas 59 x 50.3 cm (POA) |
| | 22. Sisters  2014 Acrylic on canvas 41 x 61 cm diptych (Sold) |
| | 23. The Buzz  2014 Acrylic on canvas 40.6 x 50.6 cm (Sold) |
| | 24. Mexican wave  2014 Acrylic on canvas 40.3 x 50.8 cm (POA) |
| | 25. Tea for ten  2014 Oil and acrylic on canvas 51 x 40 cm (POA) |
| | 26. Film Noir  2014 Acrylic on canvas 51 x 40 cm (POA) |
| | 27. Talisman Saber 2013  2014 Acrylic on canvas 26 x 81.5 cm Diptych (Sold) |
| | 28. The clothes hoist is not a swing  2014 Acrylic on canvas 26 x 81.5 cm Diptych (Sold) |
| | 29. Death of the Saint - the lamentation  2014 Acrylic on canvas 30 x 65.8 cm Diptych (POA) |
| | 30. Late afternoon storm  2014 Acrylic on canvas 25.2 x 50.3 cm (POA) |
| | 31. Seaward, Ross Creek  2014 Acrylic on canvas 25 x 50.7 cm (POA) |
| | 32. I see you baby  2014 Acrylic on canvas 20.5 x 51 cm Diptych (Sold) |
| | 33. Floating, dreaming  2014 Acrylic on canvas 30 x 30 cm (POA) |
| | 34. A dog's joy  2014 Acrylic on canvas 30 x 30 cm (Sold) |
| | 35. Till human voices wake us  2014 Acrylic on canvas 30 x 30 cm (Sold) |
| | 36. Sailing home, Ross Creek  2014 Acrylic on canvas 30 x 30 cm (Sold) |