New music video strikes a chord
"Brilliant", "I love it", "What an uplifting tune", "Totally ace song and video!!!!", "Very good" have been some of the email and FaceBook feedback to Michael Walker's new music video "Dreams - could take you somewhere".
Australian artist Sue Smith teamed up with songwriter and musician Michael Walker and film maker Peter Lawrence to produce a music video of Michael's new single "Dreams - could take you somewhere". Utilizing paintings from Sue Smith's successful exhibitions 'Swept Away' and 'Thirty-six Views of Castle Hill' as a backdrop, the resulting film is a swirling journey across clouds of surrealistic dreams.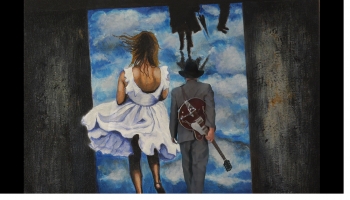 The production team is thrilled but not surprised at the reaction. "The clip is quite unique and the song and images just fit together like hand and glove" Walker commented. "When a film clip enhances the song, that is the best outcome anyone can ask for" he added.
The song is from the newly released EP "Michael Walker: Now and then" which can be downloaded