New Guinea Art
New Guinea Art Now
Michel Sourgnes Fine Arts
Brisbane, Queensland, Australia 1998
Review by Grafico Topico's SUE SMITH
An edited version of this review was first published in The Courier-Mail August 1, 1998 
A steady stream of curious visitors has been trooping through Michel Sourgnes's gallery in Brisbane to view 'New Guinea Art Now', the most ambitious exhibition of recent Papuan New Guinean art ever staged in a commercial Queensland gallery.
"People who have lived in Papua New Guinea love it, and some paintings have sold quickly to a few private collectors and one public gallery," says Sourgnes. "But others come in, look stunned by what they see, and leave quickly -- perhaps the strong colours and unfamiliar imagery don't fit preconceived ideas of what is 'good taste' in art."
The mixed reactions do not surprise Papua New Guinea art collector and author, Hugh Stevenson, who organised this exhibition, and is well-known as the co-curator of an earlier landmark show, 'Luk Luk Gen! Look Again!: Contemporary Art from Papua New Guinea'. (This show toured public galleries in Australia, New Zealand and New Caledonia from 1990 to 1994.)
For Mr Stevenson, 'New Guinea Art Now' has simply reopened an old "but-is-it-art?" debate that he says erupts whenever western critics, collectors and scholars are confronted by art works that spring from a tradition different from the western mainstream.
"When 'Luk Luk Gen! toured," he recalls, "we were virtually ignored by the media and even in the bigger Australian cities, the critics didn't come. I remember one critic saying he couldn't review the show because he didn't know anything about the art, and there were no books on it."
Such ignorance of non-western art is not a problem confined only to Australasia or to the 1990s. Until relatively recently, western art critics, collectors and historians had no interest in the art of Oceania, Africa and the Americas. "Curiosities" brought to the west from distant continents, including New Guinea masks, African bronzes and Native American pottery, were routinely judged as crude by western aesthetic standards, and as confirming misplaced assumptions of western superiority.
When at last some western collectors, artists and scholars began to take Oceanic and African art seriously in the first half of the 20th century, Europeans were at the forefront. Picasso, for example, asserted that "primitive sculpture has never been surpassed". And yet the enthuisiasm of a few artists and collectors did not impress the art establishments in Britain, the US and Australia. As recently as the 1950s and 60s, Nelson Rockefeller pleaded in vain with New York's Metropolitan Museum of Art to let him donate his collection and pay for a gallery that would display the art of New Guinea and the Pacific islands, Africa and the Americas. The museum did not relent until 1969, when Rockefeller was finally permitted to endow his collection of "primitive art" in a new wing.
Australian public galleries were just as obtuse: they did not begin to display Aboriginal art alongside their European-heritage art until the 1970s and 80s. And today, Papua New Guinea and other Oceanic art still remains largely buried in the storage rooms of Australia's galleries and museums.
This legacy of western indifference continues to affect today's Oceanic artists, amongst others. Today, with no lengthy tradition of appreciation of their cultures in the west, indigenous artists exhibiting in cities like Sydney or London or New York typically find themselves cast as "outsiders". They find it hard to crack the modern art scene, which consists of well-connected insiders supported by big modern art museums, which act, as one critic put it, "like Medici-like patrons blessing only their favourites".
Mr Stevenson agrees: "There is a lot of new art around the world -- including contemporary Native American, South African, Afro-American and Indian art -- that has a tremendous vitality, but it is ignored or second-rated because it doesn't fit into the network of the official art world."
Which is not to say that Australia's public galleries and museums have totally ignored recent New Guinea art -- but educational shows like 'Luk Luk Gen!' and the Queensland Art Gallery's Asia-Pacific triennials have been very few and far between.
Little wonder then that audiences in Australia are now finding it hard to come to grips with something as strange to them as contemporary Papua New Guinea art, when our public institutions have given us so little information about both the traditional and contemporary art of that country. Some background knowledge is essential for most art appreciation; most people know something about the myths, literary classics and the Bible -- which inspire and infuse western art. But the meaning of traditional Papua New Guinea art can only be interpreted by a specialist. Each region, and often each clan, has its own sets of beliefs, ceremonies and symbolic forms.
Another problem is that lack of knowledge about traditional New Guinea art is often accompanied by strong prejudice in the western art world against contemporary art being made in places like Papua New Guinea. Even westerners sympathetic to this country's social and political development tend to think there has been a fall from grace, or debasement of culture, when New Guinea artists try to do something new, especially if they are influenced by western culture. And yet no one questions western artists experimenting with foreign influences, like Ian Fairweather's famous use of the forms of Chinese calligraphy. In truth, all cultures throughout history have been constantly changing and assimilating new influences. And none more so than Papua New Guinea, which has changed rapidly from a regional society centred on village life to a modern nation state.
In part, dislike of contemporary Papua New Guinea art also occurs because it is a new and unfamiliar phenomenon. Art produced in non-traditional media and by professional exhibiting artists has only arisen since the 1970s in Papua New Guinea. But although the movement is not yet 40 years old, it has already produced some very fine works, notably by Highland-born artists -- including painters such as Kauage, John Siune, Apa Hugo and Oscar Towa and sculptors Gikmai Kundun and Tom Deko -- who are now living and working in urban Port Moresby.
In 'New Guinea Art Now' the paintings and sculptures by these urban artists have qualities of imagination, energy, vitality and wit which ironically are lacking in much of the still sought-after "traditional" carving of masks still being produced in Papua New Guinea for tourists, which have tended to become lifeless and hackneyed, and poorly executed.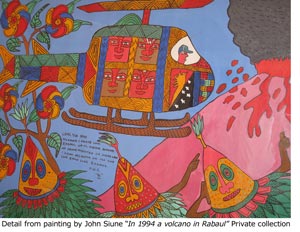 Some especially striking urban art works in the current show include large-scale, semi-naive acrylic paintings on paper by Hugo Apo and John Siune, who combine modern themes -- social commentary on political corruption, the Bougainville conflict and helicopters visiting the Rabaul volcano eruption -- with a traditional sense of strong bold colour, patterned ornamentation and "shinyness", qualities which are traditionally valued in ceremonial body decoration as indicators of beauty, health and strength.
Other talented individuals are Gikmai Kundun, whose innovative yet gentle ceramic sculptures of village life haunt the mind long after viewing; Tom Deko, whose inventive forged scrap-metal sculptures offer up both larrikin humour and Christian devotion; and a number of talented women weavers, whose colourful bilums (woven bags) triumphantly update old village traditions.
Perhaps a still more significant part of the explanation of why some Australian viewers have difficulty with these works is that recent Papua New Guinea art has values opposing prevailing ideas in western art.
For a start, the New Guinea artists are client-driven; they are happy to produce images of birds, dancers, warriors and helicopters that please the public -- whereas the western ideal of the artist is still that of the rebellious creator of art-for-arts-sake.
This does not mean the work in 'New Guinea Art Now' is crassly commercial, although some of the artists move easily between making minor works for quick sale and more ambitious works for special exhibitions like this one.
Also odd, in the western scheme of things, is that though expressive individuality is encouraged, the Papua New Guinea artists also maintain a sense of belonging to their clan community. Their creations are meant to serve the community, and by turns celebrate, inspire, uplift, instruct in traditional lore and even scold perceived bad behaviour.
In all, this is a hugely enjoyable show, but also one that throws out a challenge for future curators, particularly in public galleries and museums, to try to present this new Papua New Guinea art work to visitors who know little about what they are looking at and at the same time to persuade them to see and accept Papua New Guinea art at least in part on its own terms, not only according to western values.
'New Guinea Art Now', Michel Sourgnes Fine Arts, 16 Stevenson St, Ascot until August 14.
Copyright © 1998 Sue Smith. Not to be used without the permission of the author
Recommended reading: