To the Islands
TO THE ISLANDS: exploring works created by artists on Dunk, Bedarra and Timana Islands between the 1930s and 1990s, Perc Tucker Regional Gallery, Townsville 18 October – 1 December 2013; Cairns Regional Gallery 10 January – 9 March 2014
Reviewed by SUE SMITH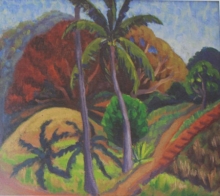 Yvonne Cohen (1914-2004) Mango trees 1945 oil on composition board 45.5 x 50.5 cm
Purchased 1986 with the assistance of North Queensland Cement Ltd
City of Townsville Art Collection
DRAWING primarily on the Townsville and Cairns regional gallery collections in Queensland (with a few works from the Queensland Art Gallery and private collections), the curator (former Perc Tucker Regional Gallery director) Ross Searle surveys a popular subject: escape to an exotic locale.
Yvonne Cohen (1912-2004) The straw hat (self portrait) 1946 coil on canvas on board 43.6 x 39.3 cm
Purchased 2002. Rockhampton Art Gallery Trust Art Acquisition fund
Rockhampton Art Gallery Collection
Modern art abounds with work by urban artists who decamped to remote and exotic  locales—from Gauguin and Picasso to Australians such as Ian Fairweather, Ray Crooke and Fred Williams—in a bid to make their work more vital, vivid or different and to escape from Western cultural and social norms.
Valerie Albiston (1911-2008) Bedarra Island c.1940s oil on board 38 x 46.5 cm
Gift of the Artist
City of Townsville Art Collection
Searle's focus in To the Islands is on a large group of north Queensland tropical island-themed works primarily from the 1940s and 50s by three lesser-known Australian painters of colourful plein-air and modernist canvases.
Noel Wood (1912-2001) Bingil Bay c.1943 oil on card 46 x 58 cm
Private collection, Brisbane
The Adelaide-born and trained, Noel Wood, and sisters from Melbourne, Valerie Albiston and Yvonne Cohen, lived and painted for decades on the  islands of Dunk and Bedarra.
Noel Wood (1912-2001) Dunk Island landscape with Bougainvillea and beached boat c.1950
Oil on composition board 31 x 37 cm
Purchased 2009
City of Townsville Art Collection
Dunk Island in the Great Barrier Reef,  just 4.5km from Mission Beach on the mainland, with its interior rainforest and iridescent turquoise Ulysses butterfly, was first made famous by the 1906 bestseller Confessions of a Beachcomber by E J Banfield.
James Mason and Helen Mirren, in Age of Consent 1969
Later, Dunk was chosen as location for Michael Powell's Age of Consent film, made in 1969.  It starred James Mason as a bohemian artist seeking inspiration on the island, who finds a teenage girl, Cora (Helen Mirren) who becomes his muse.  Shots of Mason on his boat and Mirren swimming naked over the reef added to the island's fame.
 
Fred Williams (1927-1982) Bedarra rainforest 1974 oil on canvas 97.2 x 71.2 cm
Private Collection, courtesy of Philip Bacon Galleries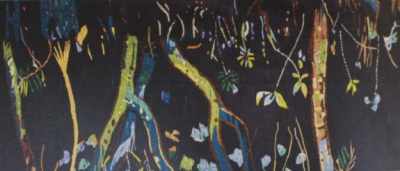 Bruce Arthur/Fred Williams Bedarra garden 1973-74
wool, hand-woven
Mrs Lyn Williams collection, on loan to Perc Tucker Regional Gallery
The show is rounded out with a small 1940 work by Roy Dalgarno who visited the north, and an early 1970s painting and gouache by another more famous artist-visitor to Bedarra Island, Fred Williams, which has been interpreted by Timana Island weaver Bruce Arthur.  His partner, Deanna Conti, the only artist of the group still living, is also represented here with three original early 1980s weavings.
 
Noel Wood (1912-2001) Portrait of Yvonne, Timana Island, Nth Queensland  1945 oil on canvas on board 58.7 x 45 cm
Gift of the artist and Valerie Albiston through the Cultural Gifts Program, 1969
Cairns Regional Gallery Collection
Though the artists don't achieve any startling interpretations of the escape-to-the- islands theme that so many have tried their hand at, there are enjoyable moments in To the Islands, such as Noel Wood's sketchy Portrait of Yvonne, Timana Island, Nth Queensland  (1945); its firm drawing and warm brown tonality enlivened with vigorous brushwork and deftly-placed lozenges of higher-keyed colours.  Cezanne and Gauguin-inspired modernism (as taught by the Shore-Bell School in Melbourne) is competently reworked in Yvonne Cohen's Mango trees (1945) and Valerie Albiston's Timana Island (1945), though unfortunately the sisters are not represented in this show with their strongest work.
Valerie Albiston (1911-2008) Timana Island 1945 oil on composition board 86.6 x 69 cm
Purchased 1986. Perc Tucker Memorial Art Collection Appeal Fund
City of Townsville Art Collection
Deanna Conti  Spangled emperor [detail] c.1981 wool, hand-woven and metal rings 123 x 176 cm
Purchased 1982
City of Townsville Art Collection
It was interesting  to see united on one wall Fred Williams darkly mysterious rainforest gouache study and finished oil and Bruce Arthur's large scale tapestry interpretation.  Deanna Conti's bold tapestriesevoke 1970s interior design (back to nature themes, earth tones and electric colours, textural exuberance) in a way that viewers will either find beguiling or excruciating.
Perc Tucker Regional Gallery, which has produced a handsome catalogue for this show and previously undertaken major exhibitions such as Artists in the Tropics and North of Capricorn: the art of Ray Crooke, is to be congratulated for its continuing commitment to the serious research and promotion of the art of northern Australia.