How Cecil Beaton photographed the stars
BOOK REVIEW
Sue Smith
THE audacious photograph was of Edith Sitwell, the English poet, taken as if she was a gothic tomb sculpture, with flowers all around her and her hands crossed on her chest.  On its first exhibition, in December 1927, at London's Chenil Galleries in Bond Street, some people thought it rather beautiful.  On the other hand, on the show's opening day a lady of title was heard to declare, "She looks as putrid as her poetry."
This was probably the nearest thing to controversy experienced by the man behind the camera, Cecil Beaton, in his charmed career of more than half a century as photographer to socialites, cinema stars and royalty. 
Not that Beaton did not possess a needle-sharp and occasionally cruel wit, as a sumptuous new coffee table book, Beaton in Vogue, attests.  Beaton's columns and articles for Vogue often had a critical edge, even when he wrote about those he admired, such as Greta Garbo: "her mouth being knife-like, and lips perpetually moistened by her adder-like tongue" — a rather startling description of the woman, who playfully called him "Beattie" and whom he had sought to marry.
Beaton in Vogue presents the famous photographer (who had a contract with the fashion magazine for some 50 years) as one of the leading creative forces in British 20th century cultural life, as a photographer, illustrator, writer and Oscar-winning designer of sets and costumes.
Beaton set his sights on conquering London society very early on.  He was born into an affluent middle class family (his father was a timber merchant) but he was rather ashamed of his background and, having attended Eton and Cambridge, didn't bother correcting a journalist in 1927 who described him as a young aristocrat and "a scion" of an "ancient Scottish family".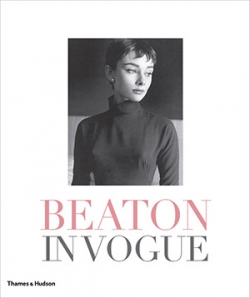 After being taken up by London's Bright Young Things of the 1920s, such as the writers and poets, the Sitwells, Siegfried Sassoon and Stephen Tennant, by the 1930s Beaton also had made four Hollywood visits (photographing such stars as Gary Cooper and Johnny Weissmuller, preparing for his first Tarzan film). 
In 1938, Beaton told an interviewer that what he liked best of all to photograph was women whose beauty was supplemented by character and a mobility of expression.  He photographed Gertrude Lawrence hundreds of times, delighting, he said, in her "difficult" nose.  He also admitted to being somewhat intimidated by the extreme Germanic efficiency of Marlene Diterich, who knew precisely the pose and lighting which would suit her best. 
By the 1950s, all the movie stars wanted to be photographed by Beaton and he was happy to oblige.  In 1956, he had been trying for three months to photograph Marilyn Monroe, who finally turned up (an hour and 15 minutes late) for her session at a suite in New York's Ambassador hotel.  Beaton wrote of the skittish star: "She romps, she squeals with delight, she leaps on the sofa.  She puts a flower stem in her mouth, puffing on a daisy as though it were a cigarette.  It is an artless, impromptu, high-spirited, infectiously gay performance.  It will probably end in tears."
Also in the 1950s, Beaton worked on costume designs for the first stage version of My Fair Lady (he later won an Oscar for his work on the 1964 film version with Audrey Hepburn, which followed an earlier Oscar for his work on another musical Gigi (1957) with Leslie Caron).
It was said that one of Beaton's skills was his ability to reinvent himself and he was good at spotting people on the way up.  He photographed the Rolling Stones in the 1960s and also became friendly with Andy Warhol.  
Finally, as Beaton himself aged, and continued stoically working even after a paralysing stroke in 1974, his photographic portraits of older people acquired insight and gravitas, such as the late poignant photographs of Ralph Richardson and Louise Nevelson.
Recommended Reading: