Half a dozen reasons..to visit the USA Midwest
Grafico Topico's gallivanting Gaul, Monsieur Flaneur, extols a summer excursion to the US Midwest's leading metropolises: Chicago, Saint Louis and Kansas City, all within easy reach of each other by plane, train or motor bus. Well worth a visit, he enthuses, they have superb culture, parks and gardens, design, fashion and food. In short, there's so much more to the central heart of America than tornadoes, Dorothy and Toto and Judy Garland …
TASTE│CHICAGO
America's second city, Chicago, is très riche in museums, fabulous skyscrapers, music, fashion, comedy, and, Flaneur would venture, just about anything else your heart would desire in a world metropolis.
But eating is one of the singular adventures of travel and this fascinating place has an equally remarkable annual summer food festival in the park which has attracted Americans for some years: "Taste of Chicago", June 24 to July 3, 2011, Grant Park, Michigan Avenue and Congress Drive. www.tasteofchicago.us
There is no entry charge to the 10-day fete and participating restaurants offer a tremenous choice of cuisine, conveniently in one place, from ethnic and exotic styles to Chicago specialities. For the non-American visitor, the festival is also a piquant habitat in which to observe the customs, dress and dialect, and perhaps to engage in stimulating discourse with, a great throng of Chicagoans.
This year, owing to the national recession, four of the city's annual lakefront music festivals will be incorporated into Taste of Chicago (rather than running as stand-alone events), adding even more interest to the event. Details of what is described as a family-oriented entertainment program will be available from late March at: www.chicagoparkdistrict.com
ICON│CHICAGO
Flaneur simply deplores being saturated in his street clothes, but millions of Chicagoans seek novel respite during intense summer heatwaves by splashing around in The Crown Fountain, one of the star attractions in Chicago's immensely popular Millennium Park, designed as the "capstone" of downtown Grant Park.
Aptly described as "high concept art for all to enjoy," The Crown Fountain, by Spanish artist, Jaume Plensa (b.1955), cost $17 million and was funded by private donors. It opened in July 2004 and was commissioned to operate for 30 years. This big-scale public art work comprises twin 50-foot (15 m) towers facing each other across a thin sheet of water over black granite that forms a 70-metre "pool" level with the adjacent walkways.
In suitable weather, children and adults happily spish splosh while gargantuan video portraits made from the faces of more than 1000 Chicago residents, diverse both in ethnicity and age, are portrayed on LED displays behind the glass blocks of which the towers are built. The faces smile at each other and, in a fresh take on the gargoyle fountains of old, every 12 minutes a spout of water emerges from the mouth of a projected visage before the image disappears in a shower of water.
Mr Plensa is said to have been a little surprised at the work's immediate (i.e. within hours of its opening) embrace by the public as a waterpark for the young and young at heart. Though no doubt heartened by such enthusiasm, he has explained his art work's more serious intention as being to restore the concepts of water and the fountain to the public space and turn them into a new experience for all the senses:
I wanted the towers to be like transparent houses that embody the true notion of community. I wanted them to embody the idea of communication and the social aspect of our lives as individuals. They suggest the opening of our homes: a place where we can shelter and protect the souls of others as if they were our own. I wanted them to shatter the barriers that separate us, to help us share
our experiences through light and transparency.
The Millennium Park has many other beguiling focal points, including a pretzel-like Frank Gehry-designed outdoor concert venue, the Pritzker Pavilion, an Anish Kapoor reflective sculpture and an outdoor sculpture gallery. As well, the Nichols Bridgeway connects the park to the delights of the Modern wing of the Art Institute of Chicago, one of the world's éminent museums. www.explorechicago.org/city/en/millennium.html
CYCLING & PADDLEWHEELING│SAINT LOUIS
In addition to its location on le magnifique Mississippi and its estimable origins as a French settlement in 1764, Saint Louis, mes chéris, is well-known for an immense concrete monument of the 1930s. Redolent of that epoque's sinister spirit of civic triumphalism, the "Gateway Arch", by Finnish architect Eero Saarinen, just manages to be more rainbow than Third Reich. It looms over the downtown and riverside area and you may, of course, ascend it to goggle the vista.
To attain a more intimate overview of this attractive river city, however, Flaneur suggests renting a bicycle or quadcycle - the latter ingenious velocipede contrivance may be powered by two adults and seats two or three enfants, or perchance a fatigué elder or two, depending upon the gusto of your pedallers - from a company on the Riverfront near the Gateway Arch. (www.gatewayarch.com) There are beaucoup de sights along the meandering cycle routes, including the quite exhaustingly interactive City Museum, CityGarden and Union Station.
After such sportif exertion, you may wish to repair somewhere for an aperitif.  A pleasant place to sit and dream awhile is on a one-hour river excursion (or dinner or Sunday brunch cruise) on board either of the charmingly-named Tom Sawyer or Becky Thatcher replica 19th Century steamboats. They remind one that, in the 1850s, Saint Louis was America's second busiest port. An English visitor in 1858 reported that as many as 170 steamboats, the top tier of which were luxuriously appointed floating palaces, had been counted at one time along the town's impressive six-mile long levee. Today's paddlewheelers are a touristic ghost of the river port's bustling golden age, to be sure, but nonetheless offer gratifying views of the famous waterway and city skyline.
ICON│SAINT LOUIS
Allons-y to the Missouri Botanical Garden, with its impressive Climatron, a geodesic dome conservatory, which opened to the public on October 1, 1960, and rises 70 ft (53 m) in the centre, spans 175 ft (21 m) in diameter at the base and encloses over half an acre (2023 m2) of tropical rainforest (with more than 2800 exotic plants, including orchids, and waterfalls and an aquarium of tropical fish).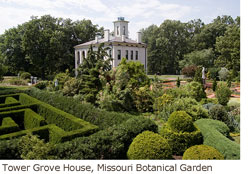 It takes at least three hours to perambulate these botanic gardens, a resplenent city oasis with something of interest at every turn, including a Turkish Ottoman garden, Chinese and Japanese cultivations, and Victorian era mazes and plantings around the immaculately preserved 1849 residence of the garden's founder, Henry Shaw. Mr Shaw established the public garden in 1859 and it is celebrated as the oldest botanical garden in continuous operation in the US and justly acclaimed as a National Historic Landmark.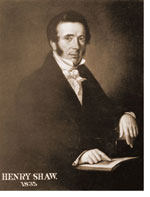 Henry Shaw (1800-1889), merchant and philanthropist, was a quintessential New World success story. The son of a Sheffield iron foundry owner, he came to Saint Louis in 1819. 19 years old and fresh off the steamboat Maid of Orleans, this evidently astute young Englishman was seeking buyers for a lost shipment of family goods which he had retrieved in New Orleans. Recognising the then French village's potential, Mr Shaw stayed to build a successful business selling hardware to the pioneers making their way West and also developed an expansive real estate portfolio.
In 1840, Mr Shaw was wealthy enough to retire and travel the world and returned to Saint Louis to create his own enchanting garden inspired by the Royal Botanic Garden, Kew, outside London, and by the Chatsworth gardens in Devonshire. He never married or had children and the city which made him wealthy became the beneficiary of his estate and vision. Along with the gift of his residence, Tower Grove House and its surrounding grounds, which became the Missouri Botanical Garden, the munificent Mr Shaw also gave the people of Saint Louis an adjoining parcel of land which became the Tower Grove Park, another leafy haven in this gracious metropolis.  
In summer, Flaneur suggests timing an afternoon botanic garden visit to coincide with an evening of the free Whitaker Music Festival, June 1 to August 3, 2011, which comprises 10 weeks of Wednesday evening concerts under the stars. Admission after 5 pm, the music starts at 7.30 pm, last admission 9 pm. There is lawn seating (bring a chair or blanket and your own picnic repast or purchase a simple supper at the site). www.mobot.org/events/Whitaker/default.asp
MUSIC│KANSAS CITY
Prohibition and the Depression skirted Kansas City in the 1930s. Called the "Paris of the Midwest" - for its irrepressible wickedness rather than fine boulevards and fountains, though these today are also a delightful feature of KC - in Kansas City, under political Boss Tom Pendergast, the booze flowed freely, prostitution and gambling flourished, and music blared all night long.
Flaneur was enchanted by the Parisian comparison, and intrigued to learn, as you may be also, that KC can proudly claim to have invented swing-style jazz. It's true. Apparently the commercial center of America's endless wheat plains and cattle prairies was as illustrious a cradle of le jazz hot as New Orleans, Chicago and New York.
Count Basie, Charlie "Bird" Parker and Lester Young were just a few of the illustrious players who called KC home. Pianist Mary Lou Williams arrived in KC in the 30s and recalled "music everywhere in the Negro section of town, and fifty or more cabarets rocking on 12th and 18th Streets. Most of the night spots were run by hoodlums, and the town was wide open for drinking, gambling and pretty much any form of vice. Naturally, work was plentiful for musicians." (Non!)
Today, the fun-loving gangsters have departed and much of the formerly seedy downtown area has had an extravagent $5 billion dollar makeover (which incidentally has created excellent restaurant and shopping precincts). But fortunately jazz, blues and other music venues still flourish in the city, particularly in the historic district of 18th and Vine, where the American Jazz Museum is located and runs the chic Gem Theater, which presents monthly shows. From  March to May 2011, Dianne Reeves, Jonathan Butler and Terence Blanchard are guests, for updates of the program later in the year consult:  www.jardines4jazz.com
Three other popular (currently nominated by www.kcmag.com as among the best) live music venues in Kansas City:
Knuckleheads Saloon, 2715 Rochester, which has a busy program, including Leon Russell (April 25, 29, 30) www.knuckleheadskc.com/knuckblog
Crosstown Station, 1522 McGee Street www.crosstownstation.com
Jardine's Restaurant and Jazz Club, 4536 Main Street  http://www.jardines4jazz.com/
But, mes amis, music enthusiasts are spoiled for choice in Kansas City. For more: www.pitch.com  and   www.jazzkc.org
ICON│KANSAS CITY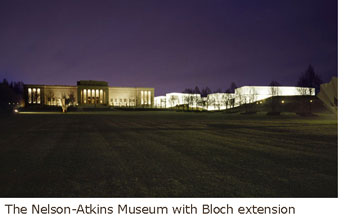 Looking as if it was set down by hyperelegant visitors from a more ethereal planet than our own, the extraordinary 2007 Bloch Building is an addition to the original 1933 Nelson-Atkins Museum of Art, an illustrious institution. The Bloch extension, part of $200 million renovations to the museum, comprises a series of five interconnected frosted glass-walled pavilions traversing a sculpture park. Gigantic lanterns stepping down an emerald green sward, at dusk and at night these translucent crystalline boxes are their own magic luminaire spectacle.
But the Bloch glass structures - which their renowned architect Steven Holl (who won a 1999 design competition with this work) describes as "lenses" intended to draw natural light into the building - are only the most visible part of the extension. They top a vast (15,300 m2) underground structure which lies beneath and contains the museum's contemporary, African, photography and special exhibitions galleries, as well as a café and reference library. Natural light is ideal for viewing art, provided damaging ultraviolet rays are controlled and the museum says that is the case here. Bravo.
More photos: www.stevenholl.com