Garry Shead 1996
Garry Shead
The Royal Suite
Philip Bacon Gallery
Brisbane, Queensland, Australia 1996
Review by Grafico Topico's SUE SMITH
This review was first published in The Courier-Mail, Brisbane 1996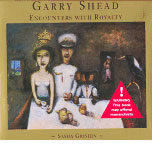 WHILE most artists stick to a single genre, Garry Shead began his career by mixing them up. Before the age of 20, the Sydney-born artist was an influential film-maker, writer, editor of an arts paper and a cartoonist, as well as an exhibiting painter.
In his maturity he has concentrated with much success on painting: in 1993, he won the Archibald Prize and in the same year created a powerful series of paintings inspired by D.H. Lawrence's novel, 'Kangaroo'.
The 'Royal Suite', a selection of Shead's latest pictures on display at the Philip Bacon Galleries (1 Arthur St, Fort Valley) is another highly focussed painting series, dealing with Queen Elizabeth's tour of Australia in1954.
Yet the early breadth of vision has not been lost: even in a single-issue show like this, he appears by turns as satirist, surrealist, magic realist and lyrical landscapist - to name just a few of the Sheads on view.
It is this refusal to be narrowly categorical, and an ability to empathise with his subjects while he is being hard on them, that makes his work so likeable.
In these pictures, Shead's 50-year-old self laughs at the folie de grandeur of Australia's bunyip monarchy in the 1950s. (He mercilessly sends up our past yearning for a goddess-leader in images which depict the Queen standing naked on a pedestal, or seated on her royal dais as the incarnation of mystical divinity.)
But he also remembers with affectionate nostalgia what it was like to be a 10-year-old innocent standing in the crowd, with a Union Jack in one hand and the Oz flag in the other, waving excitedly as the dazzling royal parade swept by.
Shead's vision has also another special quality: it is cinematographic. Consider one of the larger paintings in the show, entitled 'Queen of Suburbia'. In a macroscopic overview, his eye sweeps over a vast landscape - which stretches from a tiny, distant Sydney harbour bridge to the wilds of outer suburbia - drawing our attention, in the manner of a focusing camera, into the microscopic heart of the scene: the young Queen, beautiful if disoriented, stepping onto a red carpet, while the "extras" at this epic (a mob of awed kangaroos, sheep, kelpies and koalas) shyly proffer tributes of wattle and draw back velvet curtains for her progress. And yet, for all this drolly entertaining drama, these sensuously painted pictures seem to be deeply concerned not with the description of their nominal subjects - the antics of the royal party and subjects - but with the description of the light and shadow that plays over these people and illuminates, or disguises, their relationships with each other.
In the spotlight glare of a hot, midday sun, people are portrayed as conforming to polite, public rituals, but in the privacy of soft evening twilight they act quite differently - a point Shead frequently underscores by depicting in the background or shadowy areas of many of these pictures a naked pair of lovers, whose joyous, instinctive abandonment is contrasted with the prim restraint of the young royal couple, properly playing out their assigned public roles.
One senses that, for Garry Shead, the republican debate is only the starting point for something which the artist finds much more interesting: a consideration of the restraints and hypocrisies that civilisation imposes on human individuality.
For all the light shining through thin glazes of rich colour, or bouncing off richly impastoed surfaces, the best of Shead's paintings in the 'Royal Suite' have about them a dark intensity, a Lawrencian-like wildness, which pleads that the creative forces of the inner self must not be stifled by genteel culture, by the dead hand of middle-class convention.
Shead once said that painting was all about light: a spiritual element which revealed the deep divinity of life. Equally, in his dark shadows we may also find our deep humanity.
 
Copyright © 1996 Sue Smith. Not to be used without the permission of the author
Suggested reading